Product Information
Common Rail Valve
⑴ 334 Valve Cap 15$
⑵ 110 Series 25$
⑶ 120 Series

35$

Common Rail System
New Products
Unit Injector
Remanufacture
Solenoid
AMBAC Series
VE pump
Delphi-Lucas
Stanadyne
Caterpillar
VP Series
HEUI Injector
Nozzle Holders
Cummins
Detroit
Yanmar
Unit Pump
Electronic Control
Plunger
Nozzle
Delivery Valve
Engine chart
Repair Kit & Tool
Gas-injection
Turbo
Standard Injector
Common Rail CRS200A
Processing Equipment
Electronic Pump
eBay Stores
amazon Stores
www.chinahanji.com
Vice-Governor of Fujian Province Li Chuan Came to China Hanji for Research and Guidance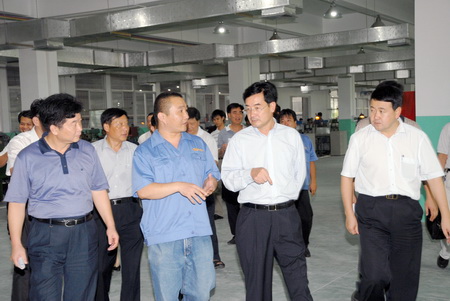 Vice-Governor Li Chuan, leading members of the provincial departments concerned from Provincial Development and Reform Commission, Economic and Trade Commission and Science and Technology Agency Came to China Hanji Power Co.,Ltd for research and Guidance on the afternoon of September 1,accompanied by Putian Municipal Party Committee Secretary Yang Gensheng, Putian Acting Mayor Liang Jianyong and other provincial leaders. They were warmly welcomed by CEO Chen Zhong and General Manager Bao ChengBin and then visit China Hanji's new factory together.

  Subsequently in the new meeting room Chen Zhong made a work report on the status of business operations, corporate culture, product development, terminal channel development and the progress and expected investment of some projects, such as axial piston high-pressure common-rail pump and so on. Vice-Governor Li Chuan Listened attentively and asked the detailed information of some aspects, such as product development, marketing and so on. He highly praised China Hanji on confronting challenges, enhancing core competitiveness and revitalizing national industry.

  "Science and technology are primary productive forces. To achieve long-term development, relying on core technology is the key to win." Li Chuan said. Therefore, he particularly asked Mr. Chen Zhong to strengthen product research and development, absorb technical specialists and master the core technology. Li Chuan also expressed that provincial and municipal governments will provide the best policy support to China Hanji.

  Our President Chen Zhong gratefully acknowledged long-term care and guidance from provincial, municipal and district governments. He also emphasized that China Hanji will keep absorbing senior managerial expertise and technical specialists to promote the continued development, gain newer and greater breakthrough, make a greater contribution to Putian's economic development, and lead the development of all the support industrial chain.